Let's get you
in control
of the markets
Built for brand managers
to have peace of mind
while growing the business.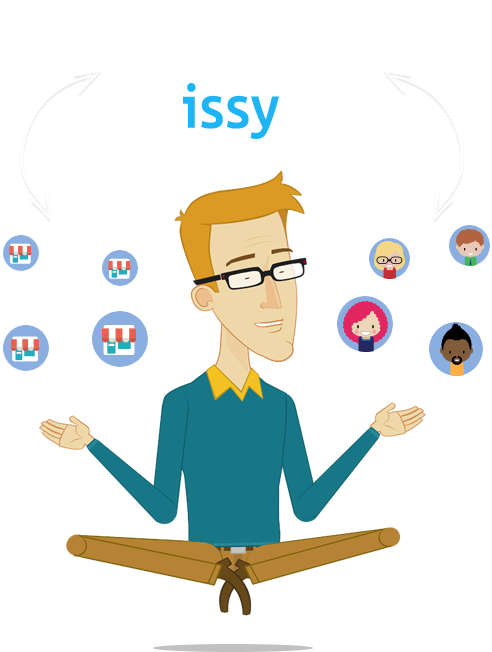 Scroll down
and discover issy
Introducing ISSY
Explanatory video
Solutions
with a 360 approach to the market
ISSY for
Channels
The Best way to get Control
of Your Retail Network
The solution requires limited knowledge of technology. Brands can gain business intelligence and incentivize the team for a job well done.

Automate the measurements of the brand's sales drivers avoiding manual work. Deploy ad-hoc questions instantly and receive immediate response that can generate great impact on your business.

ISSY for Channel provides real time visibility of facts and useful insights of in store activations. Monitor your staff in real time and ensure cost effectiveness based on geolocation.

Uplift your brand performance and impact directly in sales growth.
Live data feed
incoming from
your retail network
ISSY for
Consumer
The Only Insight-Focused Loyalty
Application in the Market
Turn your consumers into Mystery Shoppers and brand ambassadors.

Build loyalty by rewarding the consumer based on insights provided through different call to actions.

Establish a database creating your own direct marketing channel and gain real time insights for efficient and effective action plans.

Geo-target and push notifications to notify of enticing offers or promotions when passing by a location.

Explore and co-create with customers the innovation pipeline!
Live data feed
incoming from
your consumers
One stop
to visualize
your market
Expert Support
Our team of analysts will help you maximize the value of your data and will customize the reports for simple visualization.
Boost your Reports
Combine data captured with other data feeds, including from third party sources.
Grow your business
Customize your brand's profitability by accessing your data reports in real time and making smart decisions.
ISSY for Channel
Simple and Convenient
Route management
Centralize and classify the retail network based on your business reality.
Training and Incentives
Deploy training programs to your staff at any time. Incentivize your staff and get them ready to win the markets!
Insights Planner
Plan ahead of time the strategy and sales drivers to measure and keep track of efficient changes to meet your goals.
Control your Market
Instant visibility of your InStore environment.
Track your retails growth
Set the number of retail locations to target in a period of time and monitor instantly.
ISSY for Consumer
Insightful Marketing
Insight-base loyalty application
Points or instant reward system. When a consumer participates in a call to action or promotion, benefits will be provided instantly or points can be redeemed from a prize catalog.
Location-based
notifications
Define what you say, when and where to say it. Consumers are listening, make sure to speak to them in relevant locations for a more efficient communication.
Geo-fence
the promotions
Make sure the consumers are inside the locations in order to participate.
Time-based reward redemption
For simple deployment that require no integration with the point of sale system, the time-based redemption feature will drive consumers to obtain their rewards in just seconds.
Integration with third parties
Ready to integrate with loyalty programs, or any other third party platform to make the most out of what is already implemented.
Register to learn more
Come visit us!
2222 Ponce de Leon Blvd
Miami, FL 33134